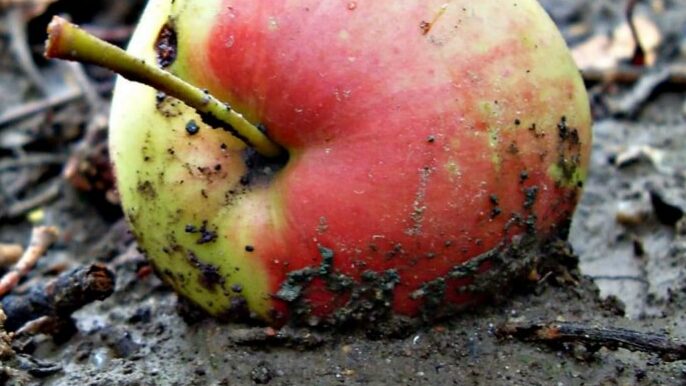 An apple fell on the footpath.
It tumbled, bounced, and bruised
As it rolled on down the pass.
The fallen fruit came to rest in slimy mud,
Colored with hues of black and oxblood.
Oozing sludge clung to the abused skin,
worms and rot feasted, devouring it from within.
The dying fruit released a painful odor,
Like a breath mint in the mouth of an ogre.
Then came a bright-eyed boy
who knelt in the filth with reverence.
He picked up the worthless fruit and spat on it.
He rubbed it on his stainless shirt to clean and shine it.
He worked gradually till his face could be seen in its mirrored finish.
Looking up from the pit with bleeding hands clutching his find,
The boy shouted at the sky: "I found it! The job is finished!"
"I found the fruit that was lost!"
He arose then and ran on up the path searching for the farmer,
all the way he wept a joyous relief, crying:
"Father! Father look, I found it!"
"I found the lost apple dad!"
"I did it like you asked."
Running up to a kindly old man he said:
"Can I keep it father, please can I have it?"
The farmer beamed at his son with pride,
and eyed the blood-red apple, a glint in his eyes.
He scooped them up with a laugh and replied:
"Because you obeyed me and did as I asked,
You may have all the apples you choose,
Even the one that fell on the path."